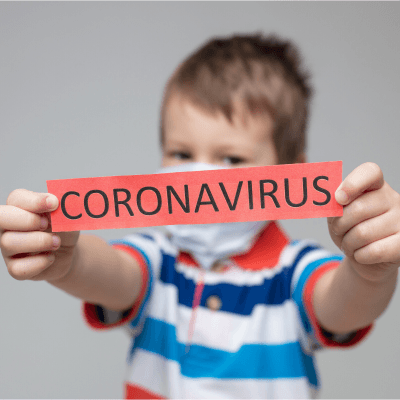 How to find the right words to explain the pandemic to children?
It is a question of answering their concerns without minimizing the situation and without dramatizing it. It was in December 2019 that several residents of the city of Wuhan were struck by a mysterious illness. High fevers, respiratory problems, the symptoms showed that these inhabitants were affected by a new virus: the Coronavirus, Covid-19! Very contagious, it quickly affects thousands of China residents. In a few weeks, the virus spread to many countries. The United States is hard hit. We sought to explain everything to children about Covid-19!
Understand the Covid-19
What is a virus?
Viruses are microbes invisible to the naked eye (we say microscopic) and which transmit diseases to humans. There are so many that scientists organize them into families. The Covid-19 family is called: "Coronavirus". A virus that circulates among animals. The animal can transmit it to humans by bite in particular.
Often these are mild viruses, but they are sometimes very aggressive and can cause death like the Covid-19 we know today.
What is the Coronavirus Covid-19?
Coronaviruses are therefore a family of viruses that circulate normally in animals, but which can be transmitted to humans.
These viruses have little crowns if you look at them under a microscope and that's why they are called that. They have the particularity of attacking especially the nose and the lungs. Often they cause colds and are harmless. The doctor then tells you that you have caught a virus. Sometimes these viruses are more serious, more contagious. This is the case for the Covid-19.
Why is it called Covid-19?
Although we call it Coronavirus, the real name of the virus is "Covid-19". If we break it down:
"Co" comes from "Corona" (Crown in Latin for the particular form of the virus)
"Vi" comes from "Virus"
"D" comes from "Disease".
And the 19 indicates the year of appearance of the virus.
But where does this Coronavirus come from?
It is very difficult to trace the precise origins of a virus. What we know is that the COVID-19 spread from China, in Wuhan.
Scientists believe it started with a bat that passed it on to a pangolin.
This animal would have been sold on a market in Wuhan and the virus it carried was then transmitted to a first human. It was then that this human infected others and the virus spread.
In a matter of weeks, it infected thousands of people in China and caused the death of several of them. To limit the epidemic, the government quickly placed the city in quarantine (this word is explained below), but other outbreaks quickly broke out in other cities in China, then in the rest of the world.
Why is this virus more dangerous?
Some Coronaviruses just spread a cold. The symptoms are easy to identify and the contagion is not very strong. They are therefore less alarming. Covid-19 is a discreet and highly contagious virus which progresses to serious forms for some patients and which can cause death.
It can also be transmitted from the onset of the disease and before symptoms appear and even by people who do not show any symptoms.
This is why we say that it is discreet and that it is difficult to control. There is no vaccine or effective medicine at the moment and the only solution is to keep people in their homes and avoid gatherings.
Do we die from the Coronavirus?
There are indeed people who die from the Coronavirus, in China but also in the United States and Washington. Most of the population recovers completely and fairly quickly from Covid-19. Scientists estimate that about 3 in every 100 sick people can die from it.
These are often the elderly, people who are fragile in terms of breathing in particular. This is why we are advised not to see our grandparents during the epidemic, we must protect them in case you carry the virus without knowing it and avoid infecting them. Preventive measures are then taken. (We explain that to you also below)
What is an epidemic or a pandemic?
An epidemic occurs when many people in one part of the world are affected very quickly. This was the case when the virus was present in China only. From now on, the virus is a pandemic, because it no longer concerns a single geographical area but several continents. The pandemic was then global and therefore today concerns all countries.
Understanding Contamination and Disease
How do you catch the Coronavirus?
The Coronavirus (Covid – 19) is transmitted through the air: when a person coughs or sneezes, they send out piles of particles (like tiny droplets). An infected person expels particles that contain the virus. It can then contaminate people and objects that are nearby and that will breathe or touch these droplets. 
How do I know if I have Coronavirus?
Children are often very resistant to Coronavirus. Children can have it, but live with it without any particular symptoms. However, they can give it to their relatives. Someone who has the Coronavirus coughs a lot, feels very tired, has a fever, and has difficulty breathing. Keep in mind that not everyone has the same symptoms and that some can pass the virus without showing signs of illness. This is what makes controlling this virus quite difficult.
What is containment? Why do we have to stay at home?
Confining someone or quarantining them is to isolate them from the rest of the population to prevent them from infecting others. It is rarely applied to an entire population, but most governments have chosen this option to fight Covid-19.
Everyone should then stay at home as much as possible. Keep in mind that this is a preventive measure, it's like putting on a helmet when riding a bike: it's to protect yourself and not catch the virus. Remember to take the news of your loved ones to maintain the link and reassure you of their good health. Especially people who are isolated. They are very unlikely to be sick or have to go to the hospital just like you.
Doing well to protect yourself and others
Once you understand what Conavirus is, you understand why you are concerned and why you need to be careful. All children are very resistant to the virus, but they can have it without knowing it and pass it on to more fragile people around them. Now we explain what you can do to protect yourself and others.
How to protect yourself?
Your parents probably insist that you wash your hands very often with liquid soap! They are right. Washing your hands well is the first barrier to protecting yourself from the virus. The virus goes away with good hand washing. This should be done every time you sneeze, cough, before and after eating, after petting your favorite animal, and every time you go and leave the bathroom.
You should also avoid coming into contact with people who could carry the virus in them, but who do not yet have the symptoms. This is why the French government demanded that contact between people be reduced as much as possible and that we were confined in our houses or apartments. We must absolutely prevent the virus from spreading even more and protect the most vulnerable. If you have to go out, you can wear a mask to protect yourself and others.
If you cough or sneeze, you should do it on the inside of your elbow to avoid spreading droplets (particles) everywhere. If you want to blow your nose, be sure to use disposable tissues and remember to throw them in a closed garbage can when you're done so you don't let the virus circulate.
Should I be afraid?
Do you hear about Coronavirus everywhere and feel that your parents are worried? Do not hesitate to tell them what you understood about the virus and to discuss with them if you have questions or things that you do not understand. If they don't know how to answer you, you can look together for answers on the Internet, for example. Understanding well will allow you to reassure yourself …
If you apply all the hygiene measures we have discussed above, you will see that you have effective means to protect yourself from the virus. Also remember that our body has natural barriers that protect it from viruses .
Sleeping well, eating well, exercising and having good hygiene are natural remedies to fight the virus. Stay well at home to avoid being contaminated or infecting others.
Do not forget that the health system in Washington is very efficient and that all caregivers are mobilized to manage the epidemic. The government has taken steps to protect the entire population. If you follow all the instructions well, you and your loved ones should be fine.
During this period, the news channels are looping on this topic and it can be really scary. Do not hesitate to turn off the TV or move away from it if you feel that the images worry you. Compile ideas to keep you busy far from screens.
How can I help my parents?
With the epidemic, your parents are going to be a bit overwhelmed and running out of time to take care of their work at home and you. In addition to the hygiene measures recommended to avoid contaminating your parents, the older children will be able to help parents by being as independent as possible.
In particular, they can help you build your schedule.
You're going to have to take it upon yourself when you're a little frustrated or angry and take care of yourself as well. This will be the most important. You may need to be a little more responsible than usual. Some tools to help you are:
    • A weekly planner and a routine
    • Activity suggestion box
    • TV programs that you can watch
    • At home work out