Since the confinement, teleworking has become a routine for many companies across the USA. However, this "new normal" represents a real challenge for many parents. Indeed, they must constantly combine teleworking and childcare including homework, children's activities, cooking, morning, noon and evening meetings. This period, therefore, requires a lot of effort on the part of parents.
So how do you keep your children busy while managing to work peacefully from home?
We believe that the keyword is organization. This is why we are going to give you some advice to help you organize yourself as well as a "turnkey" solution. 
1. Reconciling telework and children at home
Several comments frequently come up: " I don't have time to take care of my 2 children while working, what should I do? "
"My son's school has closed, he will be spending his whole days at home, how am I going to take care of him?" 
"It has become too difficult for me to reconcile my children and my teleworking, I can't get by any more" etc.
How to succeed in a serene teleworking with the children at home?
a) Organize your telecommuting day
First of all, we believe that the main thing is to create a daily and motivating routine, by mixing pleasure and work. You have to be able to carry out your work-related "to do" but also take some time for yourself. We no longer have the stress of traveling in the morning and evening, we are no longer stuck in public transport or in traffic jams. Let's take the opportunity to work at our own pace from the comfort of home.
For that, on the pro side, you have to prepare a schedule or a to do! 
There's no point in overloading yourself by putting too much pressure on yourself. It's a tough time for everyone and businesses understand it! However, in order to have a clear vision of daily or weekly assignments, it is important to prioritize them.
Secondly, take advantage of your home to take some time for yourself. Do activities that make you happy and that relax you. For example, before you start your day, spend 30 minutes doing sports like yoga or cardio. Do not hesitate to take a nap of 25 minutes maximum after lunch. This will allow you to be more efficient for the rest of the day! Even short periods of time, these small activities are really good for your productivity.
You will understand that creating a routine allows you to be efficient, productive and to stay motivated throughout the day.
b) Organize your children's day
Once your day is well organized, then plan that of your children. As for you, it is important to plan their schedule in advance: schedule times for fun activities, times for learning and, like you, times for rest. You have to be able to keep them as busy as possible so that their day goes as smoothly as possible and that they disturb you as little as possible.
Indeed, children get bored very easily and love to change activities quite regularly. To do this, create a directory of activities, hobbies and games that can be done at home!
With a little imagination, you will easily find a great activity for your children. The most important thing is not to run out of ideas in the middle of the day!
We, therefore, advise you to take time during the week. For example, on Sunday at the end of the afternoon, to plan the program for the coming week, for you as well as for your children, by following this advice! 
If despite all these suggestions, reconciling professional and personal life at home remains complicated for you, we have a "turnkey" solution!
2. The solution to all your problems: flexible guards, stress-free and without obligation during your teleworking hours!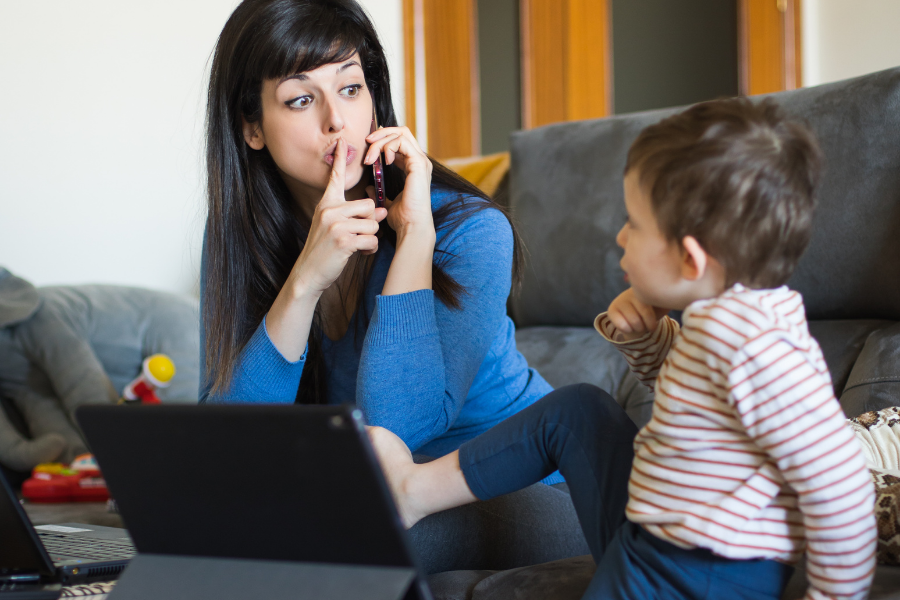 If working with your kids at home is too much of a challenge, find out about daycares in your locality.

Our center, Anna's Childcare Development, offers creative, flexible and reliable childcare at an affordable cost in Washington State. Our goal is to help parents in their daily lives. Since the health crisis, it is also important for us to help families to work from home in the best possible way and in peace, with their children cared for.
Anna's Childcare services will allow you to work serenely from home, without worrying about your children's day. Calling on us is also an opportunity to experience innovative, playful and fun childcare. In fact, in addition to homework, bathing and meals, your children can share a moment of awakening with our passionate teachers. Thus, they will discover music, painting, foreign languages, or even theater, thanks to our fun and educational activities.
We hope you enjoyed all these tips and will help you in your daily life.
Do you like our items ?! Share them <3 <3